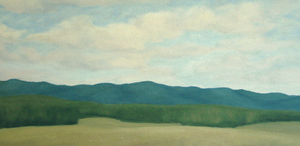 Commissioning a painting allows for creative flexibility; for instance, someone might like an original that is an 18″x24″ but would prefer the same look in a square format, or with a different color palette. The commission process begins with decisions about style (representational or contemporary/abstracted), and the dimensions and colors for the piece. Initial decisions about subject matter often include photographs of the scene itself, which are followed up with sketches based on the preferred layout of the elements of that scene. A successful collaboration with a client who is thoroughly delighted with the completed artwork is always the goal.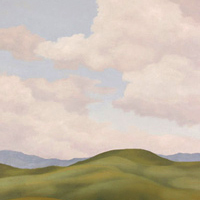 At various stages in the painting process, images of the work are emailed for review. Paintings normally require approx. 5 to 7 weeks from the date of finalized artistic decisions to the completion of the piece (time varies according to size and complexity). Prices for commissioned work are similar to the prices for original paintings. Artwork sizes generally range from small (12 by 12 inches) to a larger painting (30 by 36 inches).
The completed artwork, an oil painting on stretched canvas, is delivered unframed, although professional framing can be done locally in the Charleston, South Carolina area before shipping if preferred. Artwork can either be shipped to you, or picked up at the studio (in the West Ashley section of Charleston). Paintings are shipped with a professional level of care, and each work of art is fully insured during shipping. (Allow approximately 5 days for processing a shipping request.)
When designing a painting, complementary color choices are an integral part of the process. For paintings commissioned for a specific setting in a home or office, please email images of the surrounding walls and decor if possible.
We invite you to contact the studio for additional details about commissioning a painting, by filling out the form on the Contact page.